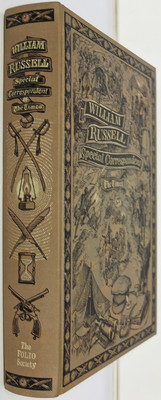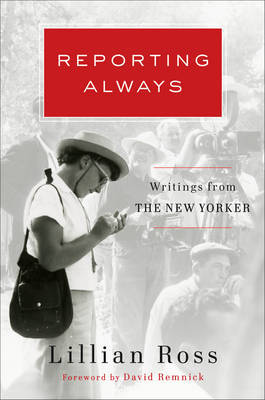 $20.00
NZD
Category: Media | Reading Level: very good
From the inimitable veteran "New Yorker "journalist Lillian Ross--a stunning collection of Ross's iconic "New Yorker "pieces. A staff writer for "The New Yorker" since 1945, Lillian Ross is one of the few journalists who worked for both the magazine's founding editor, Harold Ross, and its current editor , David Remnick. Ross invented the entertainment profile. She was the first person to write journalism in "scenes" as novelists do, and her profiles are full of humor and details that bring her subjects alive on the page. Her style has been studied and imitated by numerous writers. But there is only one Lillian Ross: spirited, funny, factual, and unforgettable. "Reporting Always" collects a wide range of Lillian Ross's "New Yorker "articles and "Talk of the Town" pieces spanning sixty years, bringing readers into Robin Williams's living room; Harry Winston's office; the afterschool hangouts of Manhattan private-school children; the hotel rooms of Ernest Hemingway, John Huston, and Charlie Chaplin; onto the tennis court with John McEnroe; and into the lives of many other famous and not-so-famous characters. Ross's portraits are filled with rich details that reveal her subjects in amusing and perceptive ways. A foreword by David Remnick discusses Ross's trademark style and her important place in the history of "The New Yorker." ...Show more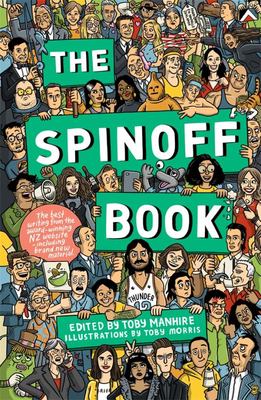 $18.00
NZD
Category: New Zealand | Reading Level: near fine
Five years ago, The Spinoff burst onto New Zealand's media scene with smart, screamingly funny and seriously relevant writing. Since then, it has enraged and inspired all the right people, respectably won Website of the Year at the 2019 Voyager Media Awards, and expanded into television, podcasts and no w - shockingly - a book. Edited by Toby Manhire, it's jam-packed with The Spinoff's best work, along with full-colour artwork by Toby Morris, photography, collage, poetry and a clutch of new and exclusive essays. Simon Wilson, Jemaine Clement, Lorde, and Jesse Mulligan rub shoulders with Spinoff stars like Alex Casey, Madeleine Chapman and Emily Writes. From Shortland Street to sports, feminism to fashion and current events to Kiwi onion dip, this is an engrossing, original take on everything that matters in Aotearoa New Zealand in the 21st century. Featuring: Toby Morris Hera Lindsay Bird Leonie Hayden Mich le A'Court Ashleigh Young Lorde Jemaine Clement Alex Casey Madeleine Chapman Duncan Greive Simon Wilson Aldous Harding Emily Writes Scotty Stevenson David Farrier ...and more "The Spinoff is where we find stories no one else is covering . . . stories we need to hear." 2019 Voyager Media Awards Judges "Right now, every left-leaning, media-savvy, university-educated hipster you know (and probably their baby-boomer parents) is reading The Spinoff." Sunday magazine "Crap and a waste of our money." Mike Hosking ...Show more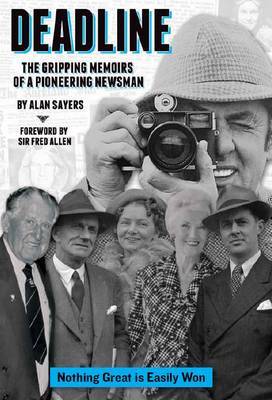 $16.00
NZD
Category: Biography | Reading Level: very good
If all the world's a stage then Alan Sayers has met most of the cast - from miscreants and murderers to hobos and heroes. His career as a ground-breaking photo journalist has led him to dive the depths for gold and scale the heights for survivors...
$16.00
NZD
Category: Social Science | Reading Level: very good
Ray: "Riveting. Compelling. The story of how Ronan Farrow held his ground against the powerful media establishment, unprincipled lawyers, public relations spinmasters, spies, to expose the sexual predations of Hollywood mogul Henry Weinstein. An Australian-born media executive tried to stop the book fro m being sold in Australia. Read Catch and Kill, and you'll be glad he failed."   In a dramatic account of violence and espionage, Pulitzer Prize-winning investigative reporter Ronan Farrow exposes serial abusers and a cabal of powerful interests hell-bent on covering up the truth, at any cost. In 2017, a routine network television investigation led Ronan Farrow to a story only whispered about: one of Hollywood's most powerful producers was a predator, protected by fear, wealth, and a conspiracy of silence. As Farrow drew closer to the truth, shadowy operatives, from high-priced lawyers to elite war-hardened spies, mounted a secret campaign of intimidation, threatening his career, following his every move and weaponizing an account of abuse in his own family. All the while, Farrow and his producer faced a degree of resistance that could not be explained - until now. And a trail of clues revealed corruption and cover-ups from Hollywood, to Washington, and beyond. This is the untold story of the exotic tactics of surveillance and intimidation deployed by wealthy and connected men to threaten journalists, evade accountability and silence victims of abuse - and it's the story of the women who risked everything to expose the truth and spark a global movement. Both a spy thriller and a meticulous work of investigative journalism, Catch and Kill breaks devastating new stories about the rampant abuse of power - and sheds far-reaching light on investigations that shook the culture. ...Show more
$16.00
NZD
Category: Travel | Reading Level: very good
A gripping memoir of life in Jerusalem from one of Australia's most experienced Middle East correspondents. Leading Australian journalist John Lyons will take readers on a fascinating personal journey through the wonders and dangers of the Middle East. From the sheer excitement of arriving in Jerusalem with his wife and eight-year-old son, to the fall of dictators and his gripping account of what it feels like to be taken by Egyptian soldiers, blindfolded and interrogated, this is a memoir of the Middle East like no other. Drawing on a 20-year interest in the Middle East, Lyons has had extraordinary access - he's interviewed everyone from Israel's former Prime Ministers Shimon Peres and Ehud Olmert to key figures from Hezbollah and Hamas. He's witnessed the brutal Iranian Revolutionary Guard up close and was one of the last foreign journalists in Iran during the violent crackdown against the 'Green Revolution'. He's confronted Hamas officials about why they fire rockets into Israel and Israeli soldiers about why they fire tear gas at Palestinian school children. By telling the story of his family travelling through the region, this book is extremely readable and entertaining, full of humour, colour. It is sometimes dazzling in its detail, sometimes tragic. Lyons says he has written it in a way that readers can feel they are there with him - so they can smell the wonderful markets of the Middle East and feel the fear of what it is like to be blindfolded and have your hands bound with electrical cord. Lyons also looks at 50 years of Israeli occupation of the West Bank - the mechanics of how this works and the effect it now has on both Israelis and Palestinians.Lyons explains the Middle East through every day life and experiences - his son's school, his wife's friends and his own dealings with a range of people over six years. If you only read one book on the Middle East, this is it. ...Show more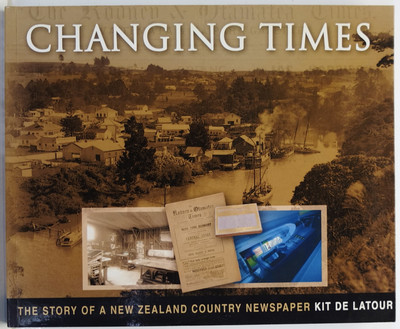 $25.00
NZD
Category: New Zealand | Reading Level: very good
In 2005 the Rodney Times was bought by Fairfax New Zealand Ltd,thus ending a 104-year era for New Zealand's oldest family-owned newspaper. For the last 88 of those years, the family was that of William Thomson Rauparaha Cook and his equally determined descendants. Ex Rodney Times editor Kit de Latour te lls the fascinating story of a New Zealand coutnry newspaper from its Australian founder, Alfred Walter Charles de La Roche - he was cold-shouldered out of the vigorous pioneer town of Warkworth by the eldest son of the local captain of industry - through to the present, when the proud independent was absorbed into the corporate publishing fold. ...Show more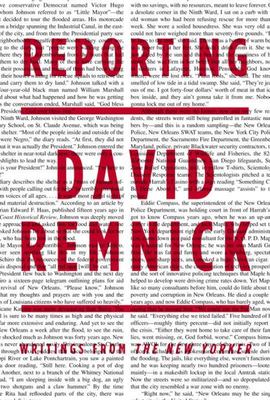 $16.00
NZD
Category: Media | Reading Level: very good
Portraits, book reviews, world news, commentary and reportage from the editor of the The New Yorker.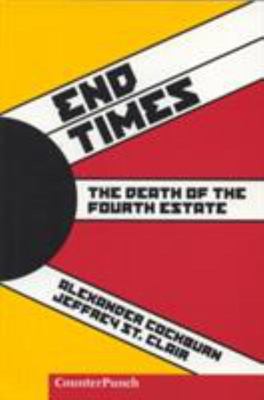 $14.00
NZD
Category: Media | Series: Counterpunch Ser. | Reading Level: very good
We can no longer trust that our journalists are reporting the news without underlying corporate or governmental agendas. The US government deregulates radio and right-wing Clear Channel gobbles up available frequencies. Journalists are embedded and the war in Iraq is a noble one. Whether the information is fabricated, one-sided, or illegally obtained, recent scandals like those involving Judy Miller and Robert Woodward only serve to underline the point that journalistic integrity is not what it used to be.Enter Jeffrey St. Clair and Alexander Cockburn, who have not only kept the tradition of muckraking alive, but have reinvented and reinvigorated it for our times. Their newest effort, End Times, presents a detailed scrutiny of the "quality" print press and leading corporate media in the last decade, detailing a disastrous sequence of misrepresentation, suppression, ignorance, and willful embrace of the government's agenda. These essays trace the impending disintegration of what is now "old media"--the traditional and now potentially tainted sources of our daily news--and looks toward the emergence of an entirely new landscape of mass communications: one that includes a more populist approach to information dissemination. ...Show more