$25.00
NZD
Category: Maori | Reading Level: very good
Drawing upon the work of archaeologists and historians and quoting extensively from the myths and songs recorded by the Maori writers of the 18th century, this text vividly evokes the Maori experience of Aoteaora, while the photographs present the country's landscape, birds, fish and plants.
$25.00
NZD
Category: Regional | Reading Level: very good
In the words of the author: "This is the story of a small island of only 37 hectares ( 93 acres) of almost solid limestone in the upper reaches of the Whangarei Harbour. Little of its history has been recorded until now. In the 60 years that I have known it, the island has been a barren place without mu ch to attract the attention of the casual visitor. on its summit are the earthworks of a Maori pa. Well-defined Maori garden drainage lines run down from the ridge almost to the shoreline, although few people realise what theyare. Otherwise its only noticeable features were a derelict concrete house, the shattered remains of an old cement works -fortunately with some of its brick kilns still standing -and other bits and pieces scattered around. Until recently there were very few trees. Just a little island of no consequence. This has now changed. A group of dedicated people had a vision of the island restored to its pre-European condition with a massive tree-planting programme. They formed the Friends of Matakohe-Limestone Island Society (FOMLI). They dreamed of a sanctuary for native birds, a haven for threatened wildlife uniquely close to the centre of a city. A place of restoration, preservation and learning where visitors are not confined by high fences and all can make a contribution, however humble. It is pleasing to see, even at this early stage, how many groups of school children visit the island. Its main aims may well be ecological, but the society has shown considerable sensitivity to the island's history. In carefully preserving the remnants of Maori and European occupancy, it also is helping shed light on our industrial past. My real interest in the island's history stems from a rare book dated 1883 that I chanced upon for a dollar in a secondhand bookshop. It consisted of a series of trade reports by the Auckland-based American consul of that time to his government. One chapter related to the cement industry. It led me to believe that Matakohe- Limestone Island played a far greater part in our industrial history than had ever been considered before. If that book was correct the first Portland cement made in the Southern Hemisphere was at Whangarei using limestone from the island. However standard history dictated I was wrong. Nathaniel Wilson with his works at Mahurangi held that honour. I lacked the technical expertise to prove my belief. In spite of setbacks I continued to research the story of the little island. I was finding out all sorts of previously unknown facts, but not on that key question -did the island deserve a place in international industrial history books? Some four years ago I approached Golden Bay Cement and was offered assistance through a researcher whom it already had under contract. Although nothing material was found, this help gave me the encouragement I so badly needed. Since then the invaluable contribution made by this company and its staff has solved the technical problems for me. My belief now became fact. In addition, the company's most valuable sponsorship of FOMLI has enabled me to carry out far more extensive research than otherwise would have been possible." ...Show more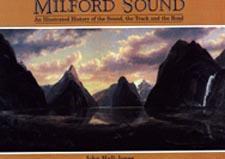 $30.00
NZD
Category: Regional | Reading Level: very good
Well illustrated history of one of New Zealand's most cherished scenic wonders.
$20.00
NZD
Category: Picture Books | Reading Level: very good
Eight illustrations of natural landscapes with a key to the fauna and flora contained in each.