$10.00
NZD
Category: Business | Reading Level: very good
When the crash of the U. S. stock market became public knowledge in the fall of 2008, it was already old news. The real crash, the silent crash, had taken place over the previous year, in bizarre feeder markets where the sun doesn't shine, and the SEC doesn't dare, or bother, to tread: the bond and real estate derivative markets where geeks invent impenetrable securities to profit from the misery of lower- and middle-class Americans who can't pay their debts. The smart people who understood what was or might be happening were paralyzed by hope and fear; in any case, they weren't talking. The crucial question is this: Who understood the risk inherent in the assumption of ever-rising real estate prices, a risk compounded daily by the creation of those arcane, artificial securities loosely based on piles of doubtful mortgages? Michael Lewis turns the inquiry on its head to create a fresh, character-driven narrative brimming with indignation and dark humor, a fitting sequel to his #1 best-selling Liar's Poker. Who got it right? he asks. Who saw the real estate market for the black hole it would become, and eventually made billions of dollars from that perception? And what qualities of character made those few persist when their peers and colleagues dismissed them as Chicken Littles? Out of this handful of unlikely--really unlikely--heroes, Lewis fashions a story as compelling and unusual as any of his earlier bestsellers, proving yet again that he is the finest and funniest chronicler of our times. ...Show more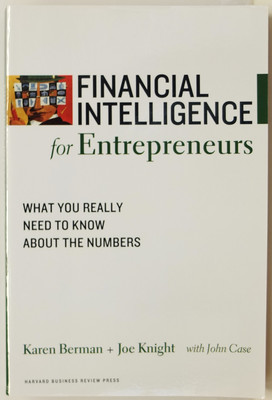 $12.00
NZD
Category: Business | Series: Harvard Financial Intelligence Ser. | Reading Level: very good
Using the groundbreaking formula they introduced in their book Financial Intelligence: A Manager's Guide to Knowing What the Numbers Really Mean, Karen Berman and Joe Knight present the essentials of finance specifically for entrepreneurial managers. Drawing on their work training tens of thousands of p eople at leading organizations worldwide, the authors provide a deep understanding of the basics of financial management and measurement, along with hands-on activities to practice what you are reading. You'll discover: Why the assumptions behind financial data matter- What income statements, balance sheets, and cash flow statements really reveal- How to use ratios to assess your venture's financial health- How to calculate return on your investments in your enterprise- Ways to use financial information to do your own job better- How to instill financial intelligence throughout your team Authoritative and accessible, Financial Intelligence for Entrepreneurs empowers you to "talk numbers" confidently with colleagues, partners, and employees-- and fully understand how to use financial data to make better decisions for your business. ...Show more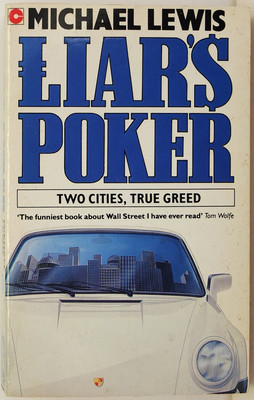 $5.00
NZD
Category: Business | Reading Level: good
Published for the first time in flipback - the new, portable, stylish format that's taken Europe by storm. FUNNY, FRIGHTENING, BREATHLESS AND HEARTLESS, LIAR'S POKER IS A TALE OF HYSTERICAL GREED AND AMBITION SET IN AN OBSESSED, ENCLOSED WORLD. From mere trainee to lowly geek, to triumphal Big Swinging Dick: that was Michael Lewis's pell-mell progress through the dealing rooms of Salomon Brothers in New York and London during the heady mid-1980s when they were probably the world's most powerful and profitable merchant bank. ...Show more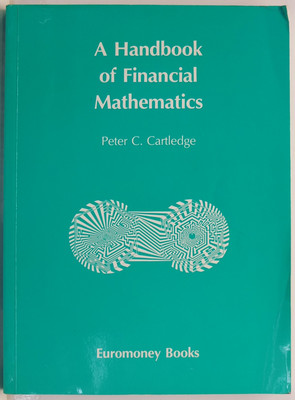 $14.00
NZD
Category: Mathematics | Reading Level: very good
This book presents the key mathematical techniques needed by the financial professional. A wide variety of markets markets are covered - the money and capital markets, the SWAPS and foreign exchange markets and the derivative and equity markets.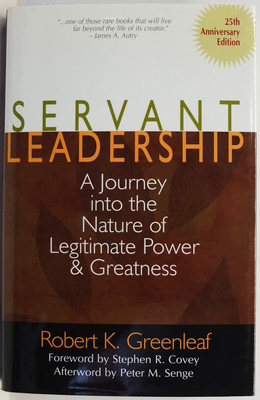 $15.00
NZD
Category: Business | Reading Level: very good
This highly influential book is filled with prophetic essays on what Greenleaf coined "autocratic leadership" with a holistic approach.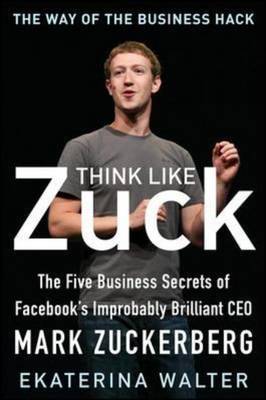 $14.00
NZD
Category: Business | Reading Level: very good
This title helps you make your mark in the world with the five success principles of the world-changing social media Site. "Think Like Zuck is a fascinating look at how entrepreneurial vision drives success. If you want more out of work than just a job, if you have the burning desire to build something of lasting value, then this is your guide." (David Meerman Scott, bestselling author of "The New Rules of Marketing and PR"). "Whether you're a seasoned business executive or the next Mark Zuckerberg in your dorm room right now, this book is a must-read! Two likeable thumbs up!" (Dave Kerpen, "New York Times" bestselling author of "Likeable Social Media" and "Likeable Business"). "True success lies at the place where passion and purpose collide - this book will help you uncover yours." (John Jantsch, bestselling author of "Duct Tape Marketing" and "The Commitment Engine"). ""Think Like Zuck" is a must-read for any innovator, social entrepreneur, or business owner looking to capitalize on the success of Facebook to propel and realize their own vision." (Simon Mainwaring, "New York Times" bestselling author of "We First"). "This book takes you on the ride of a lifetime and shows you how you can be successful! The question is: What does it take? Ekaterina gives us the answers!" (Jeffrey Hayzlett, bestselling author of "Running the Gauntlet" and global business celebrity). "In "Think Like Zuck", you will find important principles to infuse meaning into your business strategies and inspire change. Don't just read this book; use it." (Shawn Achor, author of the international bestseller "The Happiness Advantage"). If Facebook were a country, it would be the third largest in the world. Facebook accounts for one of every seven minutes spent online. More than one billion pieces of content are shared on Facebook. There's no doubt about it. Mark Zuckerberg's creation has changed the world. Literally. Facebook has singlehandedly revolutionized the way more than one-seventh of the world's population communicates, engages, and consumes information. If you run a business or plan to start one, you're probably asking yourself the same question organizational leaders worldwide are asking: What did Mark Zuckerberg do right? At long last, the answer is here. "Think Like Zuck" examines the five principles behind Facebook's meteoric rise, presented in actionable lessons anyone can apply - in any organization, in any industry. Written by social business trailblazer Ekaterina Walter, this groundbreaking book reveals the five "P"s of Facebook's success: Passion - Keep your energy and commitment fully charged at all times by pursuing something you believe in; Purpose - Don't just create a great product; drive a meaningful movement; People - build powerful teams that can execute your vision; Product - create a product that is innovative, that breaks all the rules, that changes everything; and Partnerships - build powerful partnerships with people who fuel imagination and energize execution. Packed with examples of Facebook's success principles in action - as well as those of Zappos, TOMS, Threadless, Dyson, and other companies - "Think Like Zuck" gives you the inspiration, knowledge, and insight to make your own mark in the world, to build a business that makes a difference, and to lead your organization to long-term profitability and growth. ...Show more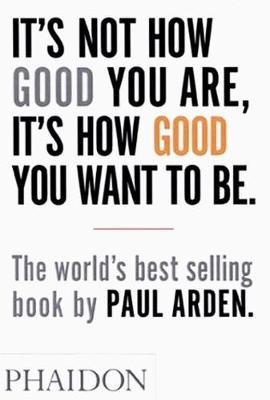 $8.00
NZD
Category: Business | Reading Level: very good
" It's Not How Good You Are, It's How Good You Want to Be is a handbook of how to succeed in the world: a pocket bible for the talented and timid alike to help make the unthinkable thinkable and the impossible possible. The world's top advertising guru, Paul Arden, offers up his wisdom on issues as di verse as problem solving, responding to a brief, communicating, playing your cards right, making mistakes, and creativity - all endeavors that can be applied to aspects of modern life.   This uplifting and humorous little book provides a unique insight into the world of advertising and is a quirky compilation of quotes, facts, pictures, wit and wisdom - all packed into easy‐to‐digest, bite‐sized spreads. If you want to succeed in life or business, this book is a must. " ...Show more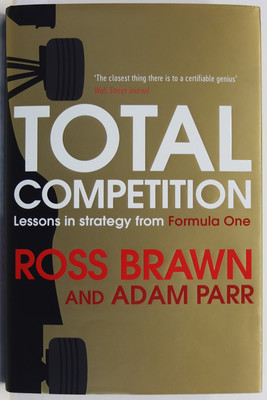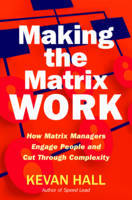 $14.00
NZD
Category: Business | Reading Level: very good
Global customers, supply chains and more integrated business functions mean that work now cuts across the traditional vertical silos of country and function. But the 'solution' of the matrix structure also brings multiple bosses, competing goals and higher levels of complexity. Traditional management tr aining prioritizes clarity, predictability and control. In a matrix we need to be able to balance this with the ability to tolerate ambiguity, manage uncertainty and decentralize control. Managers need an expanded toolkit to help them move from the hard to the soft, from the concrete to the ambiguous and back again depending on the situation. "Making the Matrix Work" introduces some new ideas and practical tools in 3 key areas. * Leading people beyond clarity to flexibility. A matrix trades clarity for flexibility. We need to create enough clarity on goals and roles and to align with others; but we also need to cope with ambiguity, manage complex trade-offs and dilemmas and deal with higher levels of conflict. * Being connected and effective. We set up a matrix to improve cooperation and communication across the silos - but be careful what you wish for! It is easy to become over-connected to poor quality meetings, teams and communication. More teamwork, meetings and emails are not the answer. * Creating control by giving it away. The complexity and diversity of the matrix can undermine trust and lead to an increase in central control and bureaucracy. We need to prevent this by building trust, empowering and creating commitment. Accountability without control and influence without authority are the norm. Kevan Hall's new book will help you develop your "matrix mindset" and will show you how to establish and engage networks that do not depend on role, control or authority to get things done. This book gives individuals working in the matrix the tools to take control of their own goals, role and success and shows matrix managers how to lead others to make their matrix really work. ...Show more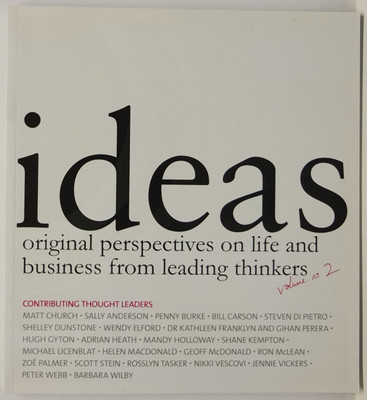 $12.00
NZD
Category: Business | Reading Level: very good
"Ideas on everything from creating sales and service cultures for the new millennium, to authentic leadership, self management, innovation, creativity, business building, communication and branding." - cover.
$14.00
NZD
Category: Business | Reading Level: near fine
In The 4 Day Week, entrepreneur and business innovator Andrew Barnes makes the case for the four-day week as the answer to many of the ills of the 21st-century global economy. Barnes conducted an experiment in his own business, the New Zealand trust company Perpetual Guardian, and asked his staff to des ign a four-day week that would permit them to meet their existing productivity requirements on the same salary but with a 20% cut in work hours. The outcomes of this trial, which no business leader had previously attempted on these terms, were stunning. People were happier and healthier, more engaged in their personal lives, and more focused and productive in the office. The world of work has seen a dramatic shift in recent times: the former security and benefits associated with permanent employment are being displaced by the less stable gig economy. Barnes explains the dangers of a focus on flexibility at the expense of hard-won worker protections, and argues that with the four-day week, we can have the best of all worlds: optimal productivity, work-life balance, worker benefits and, at long last, a solution to pervasive economic inequities such as the gender pay gap and lack of diversity in business and governance. The 4 Day Week is a practical, how-to guide for business leaders and employees alike that is applicable to nearly every industry. Using qualitative and quantitative data from research gathered through the Perpetual Guardian trial and other sources by the University of Auckland and Auckland University of Technology, the book presents a step-by-step approach to preparing businesses for productivity-focused flexibility, from the necessary cultural conditions to the often complex legislative considerations. The story of Perpetual Guardian's unprecedented work experiment has made headlines around the world and stormed social media, reaching a global audience over 4.5 billion. A mix of trenchant analysis, personal observation and actionable advice, The 4 Day Week is an essential guide for leaders and workers seeking to make a change for the better in their work world. ...Show more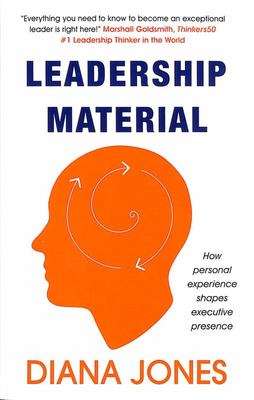 $10.00
NZD
Category: Business | Reading Level: very good
Many leaders take great care to separate their personal qualities from their professional identity. Diana Jones, an executive coach for 30-years, argues that this is unwise. In fact, 'soft' skills - empathy, compassion, and authentic communication - are derived from personal experience, and are both pow erful and essential to enhancing executive presence, influencing others and achieving results. Through compelling stories and examples taken directly from Jones's coaching sessions with experienced leaders, readers will learn how to make enduring behavioural changes that will produce better business results and create alignment among disparate groups using empathy and leadership language. ...Show more